Past projects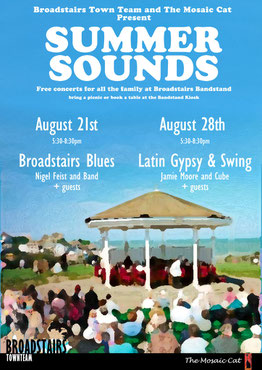 Our inaugural Summer Sounds events on 21st and 28th August 2014 were to celebrate the sounds of Broadstairs - the town is becoming well known as a hub for live music - and also our wonderful community. The Town Team worked with local promoter, The Mosaic Cat, to programme two evenings of top quality family friendly musical entertainment at our bandstand by the sea.
21st August saw Blues musicians, Nigel Feist, Rosco Levee and Mark Eden, joined by a full line up including guest performers who gave us more than we could have hoped for. Everyone had a great time and on 28th August, Jamie Moore and Cube, with guests, playing Gypsy Latin Swing - another great evening.
Broadstairs audiences are open to a wide range of musical genres and of course the town is particularly well known for both Folk Week in August and now also Blues Bash in February.