Broadstairs Summer Sounds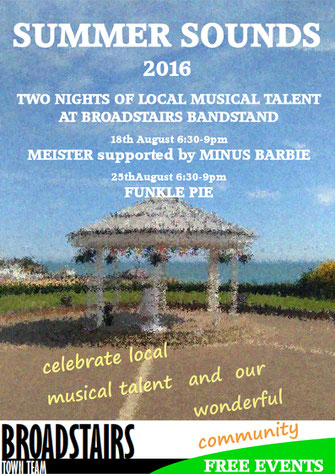 In 2016, for the third year, we held two evenings of Summer Sounds events - 18th and 25th August,  we have a wonderful line up of local bands - Meister supported by Minus Barbie on 18th and Funkle Pie on 25th August!
In August 2014, with The Mosaic Cat (meoww), we held two evenings of entertainment at the bandstand, to celebrate the sounds of Broadstairs and our wonderful community.  One evening was themed Gypsy Latin Swing with entertainment by the band, Cube, featuring the inimitable Jamie Moore on guitar. the second evening was all about the Blues, led by Nigel Feist, with echoes of the fantastic Blues Bash festival which happens every February in Broadstairs.
In 2015, with Mosaic Cat's help again, we organised three Summer Sounds events on 20th and 27th of August and 3rd September- check the gallery for more photos!