Broadstairs and St Peter's Neighbourhood Plan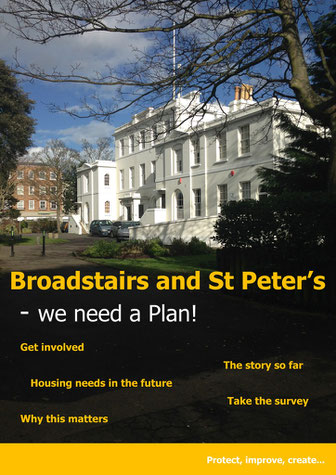 Neighbourhood Planning is an opportunity for communities to have a real say in what development is permitted. The Town Team has been working with the Town Council to contribute to the development of the Plan and increase engagement with the Neighbourhood Planning process since 2014. 
One of our volunteers put together the magazine on the left which the Town Council paid to have delivered to every household in Broadstairs and St Peter's, it included a Future Housing Needs Survey, the results of which have since been analysed - after almost 1,000 responses were received.  The core group which works on the Neighbourhood Plan has become a Sub Committee of the Town Council made up of councillors and members of the public, with monthly meetings held in public so that anyone can attend.  
The group  has started to develop a framework, timetable and outline work-plan to move through Stage Two of developing the Neighbourhood Plan.
If this interests you get in touch here or via the Neighbourhood Planning Facebook group. Or go straight to the Town Clerk at Broadstairs Town Council. 
If you'd like to know more about Thanet District Council's progress on the plan click here
Town Team have also submitted a response to the Thanet draft Local Plan, which you can download and read below.