Thanet Hut Watch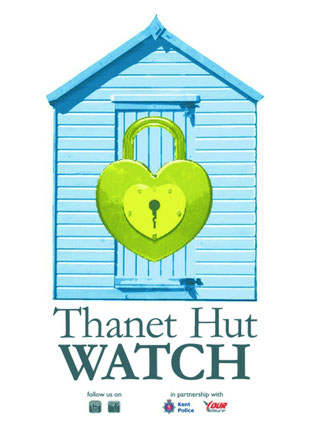 Broadstairs Town Team members are actively involved in Thanet Hut Watch and we are proud to have helped support an exciting initiative to launch a pilot of a new single point of contact and Hut Watch scheme on Viking Bay in Broadstairs.
Thanet Hut Watch is a volunteer-led beach hut tenants group, working in conjunction with Kent Police, Thanet District Council Beach Inspectors, Community Safety Partnership, local PCSOs and Your Leisure. Its aim is to ensure that all beach hut owners and tenants in Thanet work together, to ensure the safety and maximum enjoyment of Thanet beach huts, and to form clear and effective communication channels between all stakeholders.
A pilot scheme, similar to Neighbourhood watch has been installed on Viking Bay. This includes Single points of contact among hut owners on each beach, and Plaques showing that the area is part of Hut Watch. An information leaflet about hut safety has also been distributed to owners of huts. Viking Bay huts remain all winter, so the beach was chosen as a pilot.
Myrna Legon, hut owner Viking Bay  says:
'It's a great way of getting to know your hut neighbours. Should anything happen we are able to communicate with everyone that chooses to join the scheme quickly. We all love our huts, and want to make sure that everyone can enjoy them in the knowledge that they are safe and secure. We have established a single point of contact or SPOC on some of the bays already to help that communication. We asked Broadstairs Town Team for a small amount of funding for the plaques and leaflets, and were delighted when they agreed to help. The local PCSOs, Beach inspectors and Community Safety Partnership have been very supportive of the idea too'
David Towner, a hut owner from Westbrook adds:
'We started the Thanet Huts Facebook page as a new forum having seen how hut owners in other seaside towns across the UK had used Social Networks to share information. The Hut Watch idea seemed a logical extension of that. We now have almost 400 Facebook members, and it's proved very useful as a forum already. We have also just heard that The Thanet Community Safety Partnership have just approved our application for funding so that we can roll the scheme out Thanet-wide next season.' 
There is a very active Thanet Huts Facebook group - you can connect with them here.