Competition.                               Design our 'YourJubilee' backdrop
Thanks for all your wonderful entries.
The competition is now closed.
Judging will be happening w/c 16th May, and we'll be posting details of the winners and runners up here w/c 23rd May.
Closing date :

Saturday, 14th May @ Midnight.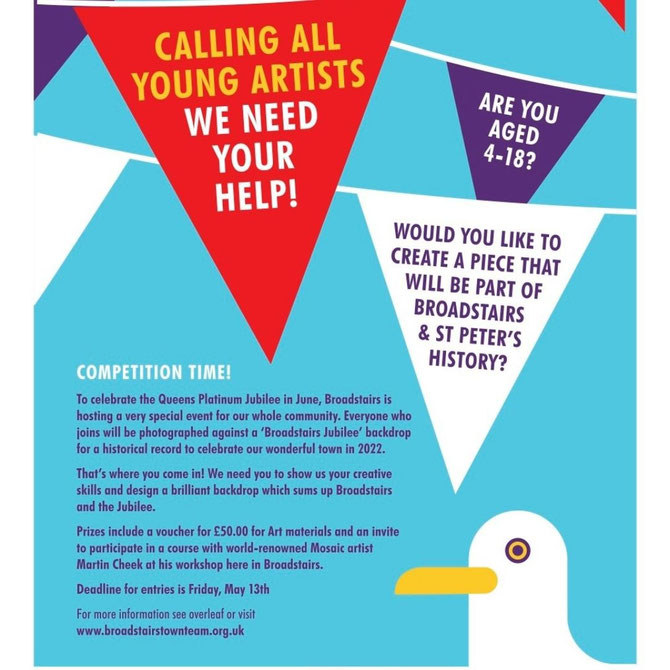 ---
This June, it will be the Platinum Jubilee ( that's 70 years!) of Queen Elizabeth the Second's Coronation as Queen in 1953.
To celebrate this amazing event, Broadstairs is hosting a very special event involving our whole community in and around Pierremont Hall.
We will be taking portraits of people of all ages for a permanent record to celebrate our town as it is in 2022.
Everyone who participates will be photographed against a special 'Broadstairs Jubilee' backdrop.
That's where you come in!
We're inviting children and young people to design that backdrop.
Send us your design which sums up Broadstairs and the Jubilee/The Royal Family for you.
2 Categories :
- Primary and Middle School age ( 4-11)
- Secondary School age ( 11-18)
Our fantastic judges are :
The winning design will be painted or digitised and printed on that backdrop and will feature in every single picture taken of members of our community.
The winner and runners up will also receive a voucher for £50.00 for Art materials and one will be invited to participate in a course with world-renowned Mosaic artist Martin Cheek at his workshop here in Broadstairs.
All we ask is that your design be colourful, must be in portrait format at A4, and :
1. An original design, not from existing pictures or images
2. Not just words
3. Be suitable for us to 'blow it up' to approximately 6 metres high x 3 metres wide!!
4. Have your name or signature clearly marked within the artwork somewhere too
We ask that all entries be scanned and then submitted digitally via email.
Please send both your finished design file and your completed entry form to : kate@broadstairstownteam.org.uk with:
'Backdrop Competition entry' and your name in the subject box please
Your entry must have a completed application form submitted with it too- download below.
If you are not able to do that, you can drop your entry, in an envelope please, clearly marked into the boxes that will be held by our friends at :
- Malcolm's Barber Shop
- Broadstairs Bandstand Cafe
Deadline for entries is : MIdnight Saturday, 14th May.

NB. Competition is open to participants aged 4-18.
Please note that reproductions of the winning designs will be used in publicity for the  Broadstairs Jubilee event and on Town Team and Jubilee social media channels. Winning and runner up designs will be announced on our Facebook page and Website. Sadly, we are unable to return original artworks to all participants, but the entries will be available for collection from Pierremont Hall on the 3rd June.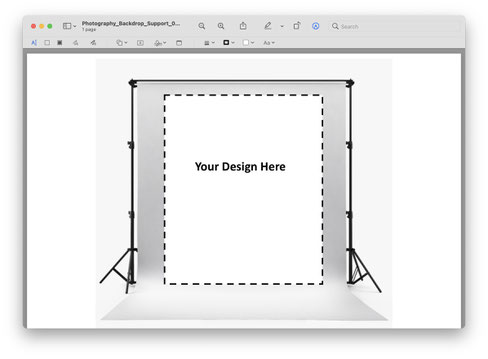 Entry form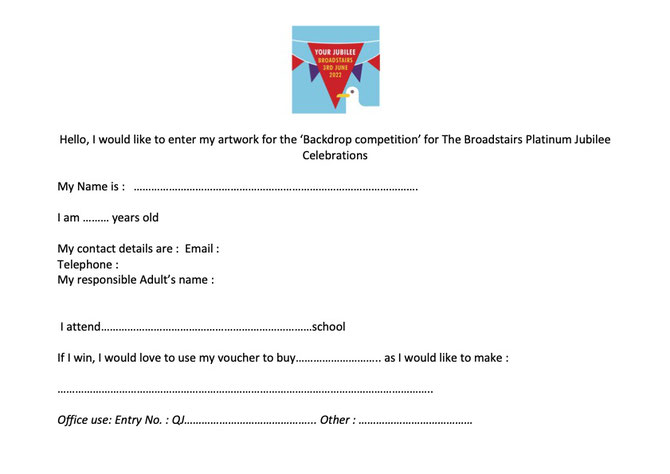 Download entry form here
Entry form final logo version.docx
Microsoft Word Document
43.0 KB