Harbour and Seafront Group
This amazing group of enthusiasts started life as a Town Team project with a specific set of local residents with a passion for this iconic building and Viking Bay.
When the opportunity came to put together a community right to bid for Asset transfer of The Old Lookout, they formed themselves into a separate CIC. The successful bid now sees them as a wonderful, fully constituted group, and The Lookout is now the base for many. many community groups to gather and benefit the town. They have plans for other projects linked to Viking Bay, so if you would like to get involved, please contact  Andy
The boathouse, Viking Bay, Broadstairs is the most photographed building in Thanet, is a central piece of the Broadstairs fishing fleet heritage and is in disrepair.
The 'Broadstairs Harbour and Seafront Group' has raised an amount of money to begin the work required to regenerate our iconic building.  
Thank you to everyone who has contributed so far. The project has inspired and mobilised our community. 
 2018 update
Through generous donations of funding from local individuals and businesses, and a recent donation from Kent Police Property fund (see the lovely pic. below!), our plans for 2018 can progress.
We would still appreciate your support and any donations would be gratefully received. So far we have been replacing rotten boards, filling, sanding and painting and the beach facing side is complete and looks wonderful. We have three sides to go and the construction of two new stair cases as well as a new balcony. Scaffolding will re-appear on the rear of the building to start our 2018 phase.
All work is carried out voluntarily and by the Harbour and Seafront Group.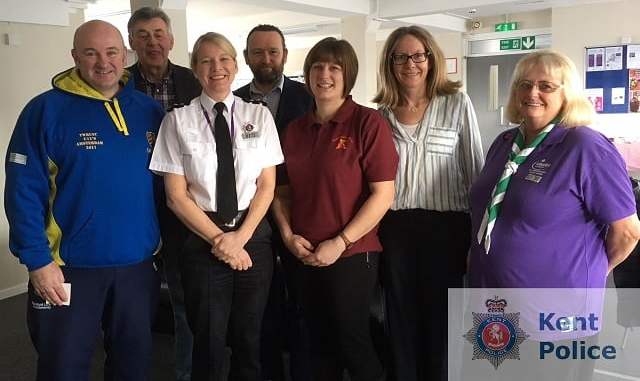 ---
Work completed on the Viking Bay Stairs!
The iconic zig zag steps down from the Promenade to Viking Bay have had a makeover.
The project which has been paid for by a crowd-funding campaign via donations from local businesses and residents, seed funding from The Broadstairs Coastal Communities Team, and Broadstairs and St. Peter's Mayor's Fund, was co-ordinated by Town Team & Thorley Taverns.
The project has been managed by the Harbour Group from Broadstairs Town Team, with a local Contractor commissioned to do the work.
Remedial work on the render, then anti-fungal treatment and re-painting has taken approximately 2 weeks.
The team also has plans to work on a major refurbishment plan for The Old Look Out or Harbour Master's House on the jetty on Viking Bay, as part of a Coastal Communities Team bid.
If you'd like to know more, contribute towards the Harbour and Seafront Fund, or join the team please drop us an email on the contact us page.

---
This energetic group completed 4 projects during 2016 & 2017, with quite a bit planned for the future.
Cleaning and then re-painting the Zig zag steps in the centre of Viking Bay.        ( Completed 30.4.16!)


Restoration and cleaning of memorial benches in and around Broadstairs in conjunction with apprentices from local 'Constructing your future' project.

Surveying and then planning the restoration of The Old Lookout on Broadstairs Jetty

Completion of Phase 1 
Planned for 2018 : Phase 2 of the sand removal from Viking Bay planned for

Kerry Millett from the Town Team said:
' The opportunity to work together and pool our knowledge, experience and contacts is a no-brainer. The Harbour group have already made such great progress with the removal of excess sand on Viking Bay, and there are already 3 other projects that we are planning to work on collectively. 
John Nicholls – from the Harbour and Seafront Group added:
' With so many interested parties feeling passionate about projects in Broadstairs, particularly the Old Look Out as one of our most iconic landmarks, I'm certain we can all harness that enthusiasm and find ways of funding and delivering the best for Broadstairs together'.